Kemar's No Place Like Home TT THD RA OTR CR SC CGC
Tara is another of the Gone With the Wind litter out of Reba by Rajah. This litter is doing some outstanding things in multiple venues! Tara is a Therapy Dog (THD) who goes to nursing homes and hospitals to bring happiness to those within. Her favorite thing to do as a Therapy Dog is participating in the READ program. This program has children who need to improve their reading skills read stories out loud to the dogs.
Tara also loves to RUN! Her love of running has earned her Senior Courser, Companion Racer, and Oval Track Racer titles. Tara has also earned her Canine Good Citizen certificate, Rally Advanced title and has been temperament tested! Tara is truly a versatile dog!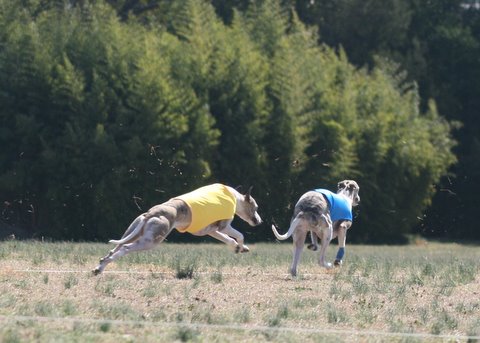 Pedigree of Kemar's No Place Like Home TT THD SC RA CR OTR CGC

Parents

GrandParents

G-GrandParents

G-G-GParents

CH Windsong Appraxin Rajah
(Sire)

CH Surrey Hills St Lawrence

CH Chelsea Mesmorize

CH Shilo's Houdini V Hasue FCH

CH Chelsea Saffron ROMX

AMER/CAN CH Allerei Ain't Misbehavin

AM/CAN CH Surrey Hill Houston

Allerei Shaharizad

Sporting Fields Jokers Wild

ENG CH Nevedith Justa Joker

ENG/IR Pencloe Dutch Gold

ENG CH Nutshell Of Nevedith

Sporting Fields Charmed One

CH/BIS Sporting Field's Strider ROMX

CH Gold Dust's Champagne Parti Sf

Riverchase Adagio
(Dam)

CH Saxon Shore Roll Of Thunder

CH Watch Me Ari Independence

CH Watch Me Star Spangled Banner

CH Watch Me Belle Bathsheba

CH Saxon Shore Golden Nugget

CH Nasusa Taymarc Dalcreagan West

CH Saxon Shore Flash Dance

CH Antares Ambridge Rose

CH/BISS Starlines Reign On

Hamrya's Lucky Charm

Ringmaster's Gold Fever

CH Saxon Shore Golden Nugget

CH Nasusa Taymarc Dalcreagan West

CH Saxon Shore Flash Dance