Kemar's Best Picture BN JC CGC
Jovi is another of the Gone With the Wind litter out of Reba by Rajah. This litter is doing some outstanding things in multiple venues! Jovi has earned his BN (beginner novice) title, a Junior Courser title and Canine Good Citizen from the AKC. His owner, Charlotte, is doing more with him and we'll be adding more to his name before you know it!
Many thanks to owners like Charlotte who bring out the best in their dogs and challenge them with new things that enrich their lives!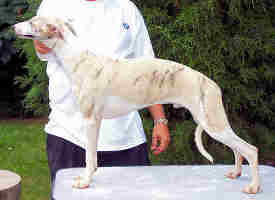 Pedigree of Kemar's Best Picture BN JC CGC

Parents

GrandParents

G-GrandParents

G-G-GParents

CH Windsong Appraxin Rajah
(Sire)

CH Surrey Hills St Lawrence

CH Chelsea Mesmorize

CH Shilo's Houdini V Hasue FCH

CH Chelsea Saffron ROMX

AMER/CAN CH Allerei Ain't Misbehavin

AM/CAN CH Surrey Hill Houston

Allerei Shaharizad

Sporting Fields Jokers Wild

ENG CH Nevedith Justa Joker

ENG/IR Pencloe Dutch Gold

ENG CH Nutshell Of Nevedith

Sporting Fields Charmed One

CH/BIS Sporting Field's Strider ROMX

CH Gold Dust's Champagne Parti Sf

Riverchase Adagio
(Dam)

CH Saxon Shore Roll Of Thunder

CH Watch Me Ari Independence

CH Watch Me Star Spangled Banner

CH Watch Me Belle Bathsheba

CH Saxon Shore Golden Nugget

CH Nasusa Taymarc Dalcreagan West

CH Saxon Shore Flash Dance

CH Antares Ambridge Rose

CH/BISS Starlines Reign On

Hamrya's Lucky Charm

Ringmaster's Gold Fever

CH Saxon Shore Golden Nugget

CH Nasusa Taymarc Dalcreagan West

CH Saxon Shore Flash Dance