Kemar's Love Torn THD RA BN CGC
Pointed in the show ring, Ashley makes his home with Kaye Martell and she has introduced him to many new things.
Ash is a Therapy Dog through Therapy Dogs International and has logged enough hours to have his AKC Thd title. He is also titled in AKC Rally and Obedience. He brings a lot of comfort and joy to many people. Ash also participates in the "We're All Ears" reading program at local elementary schools.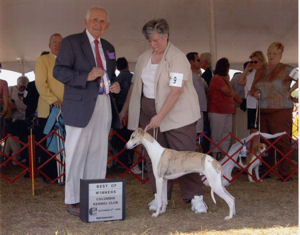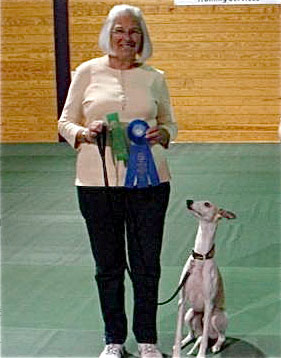 Pedigree of Kemar's Love Torn THD RA BN CGC

Parents

GrandParents

G-GrandParents

G-G-GParents

CH Windsong Appraxin Rajah
(Sire)

CH Surrey Hills St Lawrence

CH Chelsea Mesmorize

CH Shilo's Houdini V Hasue FCH

CH Chelsea Saffron ROMX

AMER/CAN CH Allerei Ain't Misbehavin

AM/CAN CH Surrey Hill Houston

Allerei Shaharizad

Sporting Fields Jokers Wild

ENG CH Nevedith Justa Joker

ENG/IR Pencloe Dutch Gold

ENG CH Nutshell Of Nevedith

Sporting Fields Charmed One

CH/BIS Sporting Field's Strider ROMX

CH Gold Dust's Champagne Parti Sf

Riverchase Adagio
(Dam)

CH Saxon Shore Roll Of Thunder

CH Watch Me Ari Independence

CH Watch Me Star Spangled Banner

CH Watch Me Belle Bathsheba

CH Saxon Shore Golden Nugget

CH Nasusa Taymarc Dalcreagan West

CH Saxon Shore Flash Dance

CH Antares Ambridge Rose

CH/BISS Starlines Reign On

Hamrya's Lucky Charm

Ringmaster's Gold Fever

CH Saxon Shore Golden Nugget

CH Nasusa Taymarc Dalcreagan West

CH Saxon Shore Flash Dance