Payne
Payne is our ambassador. She never meets a stranger and is always happy to see you. I've never seen her intimidated by another dog either. She gets along with everyone and is a true testament to what Crested temperament should be.
Payne finished her AKC Championship under Westminister Best in Show judge Edd Biven. What a signal honor this was for us!
On August 30th, 2012, Payne whelped 5 puppies by Ch Wesann's Well Hello Again (Jackson). 3 girls and 2 boys!
Payne is PRCDA clear!!!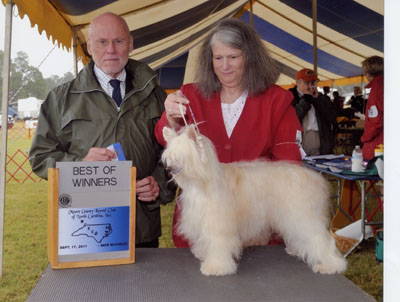 Pedigree of CH Zydeco Shengfeng

Parents

GrandParents

G-GrandParents

G-G-GParents

Zydeco War Chief
(Sire)

CH Proud Pony Observer

NORDW Proud Pony Kamikaze

SUCH Omegaville Kwickstep

FINCH Physical Fascination Phortezza

S,N, UCH Lionheart Kind Regards To Proud Pony

SUCH Movalian Don Rusty Thomson

SUCH Jokima Jah Kita

Poss Cameo

Noodle Wuzza Wormy Thang

Poss Partly Cloudy N'stormy

Poss Serra Of Dickerson

Mangey Marvelous Muttzi

Poss Rusty Chargi By Jove

Poss Little Pony

Sara Soda By Jove
(Dam)

Kismet Pistol Pete By Jove Som

CH Moptop Kit'n Kaboodle Foxlair

CH Woodlyn Reicrist Oxford Som

CH Moptop Pop Goes The Weasel

Foxlair's Texas Trophy

El Pelon's X-pose'

Foxlair Woodlyn Moptop Tees

Lou-gin Shes Got The Look

Lou-gin Bronzed Warrior

AMCH ACCCCH BAHCH BI-PERUCH INCACH INTCH(FCI) PERUCH PRCH SOAMCH SKCCH CH OF THE AMERICAS Chargi's Ps Of Phaedrian Som

Chargi's Suzi Of Dickerson

Lou-gin Veroette I Love Lucy

Eric's Gingery Wizard Of Oz

Dar-walk Chiffon De El Pelon