FUN THINGS YOU AND YOUR DOG CAN DO
There are lots of things you can do with your dog. Just walking, playing ball, or Frisbee in the park are some that come to mind, but there is also a whole other world of stuff to do. Here are just a few of them!
We'll start with American Kennel Club *events* as they are called by the AKC.

AKC has events for most every breed beyond just conformation and obedience. There are herding events for all herding breeds, "go-to-ground" (or as AKC calls them, Earth dog Trials) for Terriers, Lure Coursing for Sight hounds, Hunt Tests for Setters, Pointers and Spaniels , Retriever Trials for the Retrievers although the Standard Poodle is also allowed to compete in them, Beagle Trials for Beagles and the list just keeps going. For a more comprehensive list of those breed-specific events, visit the AKC web sight by clicking on the logo .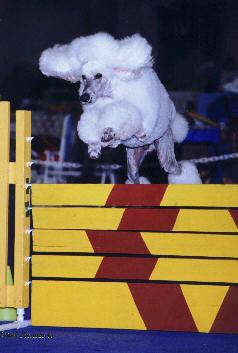 Agility is the fastest growing sport for dogs. Dogs seem to love it and the competition is open to all purebred as well as mixed breed dogs; from 3lb Yorkshire Terriers to 150lb Mastiffs, each has it's own category for jump heights, as well as mixtures of obstacles. Being competitive does require an understanding of courses and course layouts as well as some basic obedience commands and an athletic dog (having an athletic handler helps, but isn't a requirement). Along with the AKC, the UKC (United Kennel Club, Kalamazoo, MI) and USDAA (see below for their address and telephone number) offer agility trials and titles. Check out The Dog Patch for more information and links to other agility-related sites.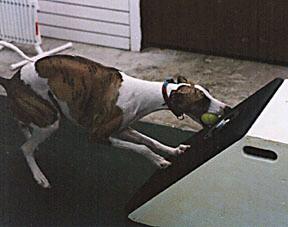 Flyball is a team relay race that any tennis-ball-loving dog worth his salt could do.  While there are organized competitions, if you have a team of four, can build the box and hurdles, you can "do" Flyball just for the fun of it. Here's a link to more information on Flyball - Flyball Information

Love to dance? Then Freestyle is the thing for you. Freestylers combine their favorite songs,  costumes appropriate to the tune, and pair up with their dog in a dazzling display of choreography and canine rhythm. Get out your old top hat, your cane and your 16 rpm's and boogie on down! Freestylin' With Fido
Is your pooch especially simpatico? Have an hour or two a month you can spare? Then donate that time to be a Therapy Dog handler. Therapy Dogs visit hospitals, nursing homes, rehabilitation centers, and even prisons to bring the healing benefit of interaction with pets to the sick, mentally ill and unfortunates. While it can be stressful for both the dog and handler, being a pet therapy volunteer is especially rewarding. One of the newer "categories" of pet therapy is the Reading with Dogs program. Dogs and handlers spend time in libraries with children who need special help with reading. This program has enabled many children to become better readers by providing a relaxed atmosphere for them to practice their reading skills. No special training is required, just a friendly dog who is up to date on his vaccinations, clean and parasite free. Therapy Dogs
Got a Frisbee catcher par excellent? Then you'll want to find out all about the Frisbee Championships. Frisbee Dogs
And if you just want to do that same old thing, Info Dog has a list of dog shows, agility trials and obedience trials all across the US.
Do you have a dog that LOOKS like he would be eligible for AKC registration, but don't have any papers? You can do one of two things: If he LOOKS like a purebred whatever, you can apply for an ILP or Indefinite Listing Privilege number from AKC or UKC. (Please note that all registries require ILP registered dogs to be spayed/neutered as does AMBOR) The forms can be requested from their sites ( AKC or UKC) send pictures, the registration fee, the form and in a few weeks, voila! a certificate! OR if he's without a doubt a Heinz 57, you can apply to AMBOR (American Mixed Breed Obedience Registry) for registration. AMBOR registered dogs can compete in UKC obedience and agility and USDAA agility trials as well as Flyball, Therapy and many other fun things.
For more information on USDAA, contact the following:
United States Dog Agility Assoc.
P.O. Box 850995
Richardson, TX 75085-0955
214-231-9700
Whatever you do with your canine friend, he will enjoy most is just being together with YOU. Even if you never compete in a trial, just attending a class once a week with your dog will make him happy.
Please Sign Our Guestbook

This page copyrighted 02/23/2004 by